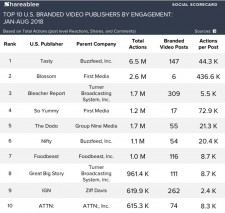 NEW YORK, October 2, 2018 (Newswire.com) - ​Shareablee Inc., the global leader in audience-based social media measurement, today released its rankings of 2018's most socially engaged U.S. branded video publishers on Facebook to-date. The findings reflect more than 2.7 billion views and 26 million actions (post level reactions, shares, comments) in partnership with 16,000 advertisers.
Branded videos comprise 27 percent of Facebook's entire branded content space (photos are still 73 percent of all branded content) – up from only 10 percent of branded content this time last year. America's top five publishers generated more than half of all publishers' total branded video actions, while the top 25 percent accounted for a staggering 83 percent of all viewer engagement.
The most engaging video publisher so far this year is Buzzfeed Inc.'s Tasty with 6.5 million total branded video engagements, followed by First Media's Blossom in second with 2.6 million actions, and Turner Broadcast Systems' Bleacher Report in third with 1.7 million actions.
The top three publisher ranks remain unchanged when measured by branded video views, with Tasty 459 million video views still out ahead in total actions. In fourth, with 124.1 million video views is Some Spider Studios' Scary Mommy with 1.1 million total actions and 109.4 million branded video views across 54 total videos so far in 2018. Top performers by Views per Video were Blossom, with 29.5 million views per video, followed by So Yummy, with 5.9 million views per Video.
ShopRite drove the most branded video engagement of any U.S. advertiser, with 1.7 million total actions from four branded videos. Walmart ranked second with 924,000 video actions, followed by 40cean (656,000 actions).
Blossom's partnership with advertiser ShopRite also produced, "Grill your way through the Summer with these 8 awesome grilling hacks!" – 2018's most viewed branded video (104 million views), and the most engaging piece of branded content on social to-date (1.7 million actions).
About Shareablee
Shareablee is the leader in audience-based social media measurement for media publishers, agencies and brands that want to understand the impact and effectiveness of their cross-platform social media campaigns. Launched in 2013, Shareablee empowers brands by providing data that can help them define and drive success on social media by arming them with metrics and predictive analytics that inform powerful best practices. Shareablee is the leading authority on audience intelligence, competitive bench-marking and actionable insights with clients in 15+ countries.
###
Media Contact: Cameron@Shareablee.com
Source: Shareablee Inc.
Share: