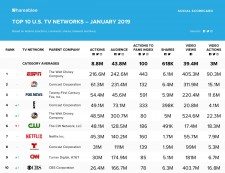 The Harley Davidson partnership with X Games was the top branded content in January
NEW YORK, February 7, 2019 (Newswire.com) - Shareablee Inc., the global leader in audience-based social media measurement, today released their ranking of the most socially engaged American TV networks for January 2019. The ranking includes all television shows and all main network brand accounts under their respective networks, which increased 20.1 percent in overall engagement and reflected a total of 865 million actions (post-level reactions, shares, comments, retweets and likes) across Facebook, Twitter and Instagram over the last month.
Disney's ESPN earned the top ranking last month with 216.6 million cross-platform actions — which represents an impressive 70 percent greater number of engagements vs any other TV network. Namely, NBC ranked second with 61.3 million actions. FOX News came in third with 54.4 million actions, followed by E! (49.1 million actions) and ABC (48.5 million actions).
Other Notable Findings:
· The top-ranked Primetime TV shows on social media last month were The CW's Riverdale (32.3 million actions), ABC's Grey's Anatomy (11.2 million actions), CBS' Entertainment Tonight (9.2 million actions), NBC's America's Got Talent (4.3 million) and MSNBC's The Rachel Maddow Show (3.4 million actions)
· The Harley Davidson partnership with X Games featuring a short 1one-minute video of Logan Lackey, who competed at the Snow Hill Climb at X Games Aspen, was the top branded content in January with 3,000 shares, 12,000 reactions and 533 comments. In the video, the rider explained how he customized his motorcycle for this race
· ABC Television topped the video rankings with 524.6 million views in January, followed by ESPN with 405.3 million views and CBS – although number 10 in rank for overall social media engagement – came in third place for the top video views at 403.7 million
· The fastest-growing TV networks, in terms of number of engagements, in January were Sundance, with a huge increase of 5,018 percent, followed by LMN (up 1,235 percent), Great American Country (up 379 percent), Amazon Prime Video (up 309 percent) and the Golf Channel (up 171 percent)
About Shareablee
Shareablee is the leader in audience-based social media measurement for media publishers, agencies and brands that want to understand the impact and effectiveness of their cross-platform social media campaigns. Launched in 2013, Shareablee empowers brands by providing data that can help them define and drive success on social media by arming them with metrics and predictive analytics that inform powerful best practices. Shareablee is the leading authority on audience intelligence, competitive benchmarking and actionable insights with clients in more than 15 countries.
Source: Shareablee Inc.
Share: