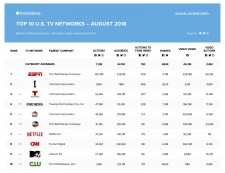 ABC leads Video Views with 790 million, Outpaces US TV Average Tenfold
NEW YORK, September 11, 2018 (Newswire.com) - Shareablee Inc., the global leader in audience-based social media measurement, today released their August ranking of the most socially engaged TV networks across the United States. The ranking, which includes all television shows and all main network brand accounts under their respective networks, reflects a total of 708.6 million social actions across Facebook, Twitter, and Instagram, down 6 percent from July.
ESPN led with 120.4 million actions and 4.7 million shares in August. E! ranked second with 62 million actions followed by Telemundo (53.4 million actions), FOX News (47.8 million actions), and NBC (45.6 million actions).
Other notable findings:
The top Primetime TV Shows on social media were Sin Senos Si Hay Paraiso on Telemundo (23 million actions), America's Got Talent on NBC (5.4 million actions), The Originals on CW (5.1 million actions), El Señor de los Cielos on Telemundo (5 million actions), and The Walking Dead on AMC (3.3 million actions).
The top TV Network by Video Views was ABC with 790.3 million
The fastest growing TV Network on social was Lifetime Movie Network (265 percent), followed by WeTV (132 percent) and MTV (131 percent) – MTV's Video Music Awards on Aug. 21 largely drove MTV's growth
About Shareablee Inc.
Launched in 2013, Shareablee Inc. is the leading authority on audience intelligence, competitive benchmarking and actionable insights for social media. The official social media analytics partner of comScore, Shareablee measures a census of global properties and collects brand audience and engagement data across Facebook, Twitter, Instagram, Google+, Tumblr and YouTube.
Source: Shareablee Inc.
Share: