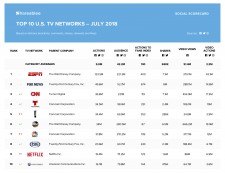 NEW YORK, August 15, 2018 (Newswire.com) - Shareablee Inc., the global leader in audience-based social media measurement, today released their July ranking of the most socially engaged TV networks across the United States. The ranking, which includes all television shows and all main network brand accounts under their respective networks reflects a total of 571 million social actions across Facebook, Twitter, and Instagram.
Overall engagement for TV networks fell by nearly 18 percent as Summer's lineups are giving way for Fall's. ESPN retained the top rating this July boasting 124 million actions, along with 7.1 million shares. Fox News ranked second in July, also topping the news category with 50 million actions, and CNN took third spot with 37 Million actions
ESPN and Fox News were followed by CNN with 36.7 million actions, Telemundo with 35 million actions, and E! with 34.4 million actions to round out the top 5.
Source: https://www.shareablee.com/top-10-u-s-tv-networks-july-2018/
The top Primetime TV Shows on social media were Sin Senos Si Hay Paraiso on Telemundo (11.6 million actions), America's Got Talent on NBC (3.3 million actions), El Señor de los Cielos on Telemundo (2.8 million actions), The Originals on CW (2.4 million actions), and World of Dance on NBC (1.8 million actions).
CNN is the only TV network ranked in the top 10 which saw growth over June's social actions (+ 2.38 percent).
The top TV Network by Video Engagement was ESPN with 43 million actions.
ABC won top video views with 663 million. Meanwhile, E! News led the category in video views growth, up 75.3 percent month-over-month with 25 million Views.
About Shareablee Inc.
Launched in 2013, Shareablee Inc. is the leading authority on audience intelligence, competitive benchmarking and actionable insights for social media. The official social media analytics partner of comScore, Shareablee measures a census of global properties and collects brand audience and engagement data across Facebook, Twitter, Instagram, Google+, Tumblr and YouTube.
Source: Shareablee Inc.
Share: