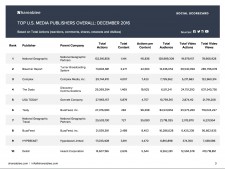 New York, NY, January 24, 2017 (Newswire.com) - ​​​​​​​​Shareablee today announced the top 10 U.S. Media Publisher rankings for December 2016, as compiled by the company's social media measurement services.
U.S. media publishers accounted for 1.6 billion total social actions (likes, comments, shares, retweets, dislikes), with 430 million actions from Instagram, 550.6 million from Facebook, 52.6 million from Twitter and 569 million from YouTube (excluding views) in December.
The media publishing industry represented 11 percent share of consumer actions U.S. brands in December. Total actions for the media publishing industry saw a 7 percent increase compared to November, driven in large part by a 15.6 percent increase in YouTube.
National Geographic continued its dominance of the rankings taking the number one position with 132.5 million actions. Bleacher Report also maintained its second position, garnering 73 million actions. Both publication grew their total engagement by 5% since November, just above average for the entire top 10 list. Of the top 10, Complex saw the highest growth in engagement, at 20.4 percent.
KEY ENGAGEMENT DRIVERS IN DECEMBER
Complex's category leading growth was driven by its investment in Facebook video -posting 47 percent more content, and seeing 167 percent higher consumer engagement. Top performing posts were videos featuring family life, with the top post about siblings bonding, capturing over 700,000 social actions.
National Geographic's performance was driven by a combination of links, images and video. Its top post was a link to a tail of a 99-million year old dinosaur and it top image was a collection of the 52 best images from 2016. Both posts captured over 300,000 actions.
Bleacher Report saw a 5.8 percent growth in December driven by its 11.9 percent increase in Instagram total actions. The media publisher's top content featured photo memes from Craig Sager, Olympic athletes and Charles Barkley.
Other notable findings include:
The Top Five Publishing Brands on Facebook: USA Today (52.6 million actions), The Dodo (38.8 million actions), Tasty (37.7 million actions), Bleacher Report (23.4 million actions) and Shared (21.1 million actions)

The Top Five Publishing Brands on Twitter: Bleacher Report (7.5 million actions), Billboard (2 million actions), The New York Times (1.7 million actions), The Hill (1.3 million actions) and Buzzfeed (1.2 million actions).

The Top Five Publishing Brands on Instagram: National Geographic (124.2 million actions) Bleacher Report (51.9 million actions) National Geographic Travel (25 million actions), Complex (22.6 million actions) and HYPEBEAST (13.1 million actions)

The Top Five Publishing Brands on YouTube (excluding views): Tasty (16.5 million actions), Complex News (14 million actions), Wired (13.4 million actions), Motor Trend Magazine (9.7 million actions) and National Geographic (7.8 million actions)
About Shareablee Inc.
Shareablee is the first and only industry-level measurement solution for media companies and brands wanting to understand the impact and effectiveness of their cross-platform social media campaigns. The platform is now available globally, with clients in 15 countries worldwide.
Shareablee captures real-time interactions of more than +850M consumers against its global dictionary of brands, publishers, TV shows, influencers, celebrities and more. The company marked its third anniversary in February with 300% revenue growth in 2015 and closing with +250 clients in 2016. Shareablee's roster of platform clients consists of many industry leading media companies and brands, including the NBA, WWE Warner Bros, P&G, Hulu, NBC, AOL and Luxottica. The platform also includes subscribers from leading advertising agencies represented by Publicis, WPP, Maxus and Interpublic Group.
In April 2015, Shareablee was named a Unilever Foundry Award winner, and in May 2015, the company was listed among EContent's Trendsetting Products of 2015. In September of 2016, Shareablee was named an official Facebook Media Solutions Partner.
For additional information, please visit www.shareablee.com.
Media Contact:
Nathalie Nuta, nathalie.nuta@shareablee.com
Source: Shareablee
Share: