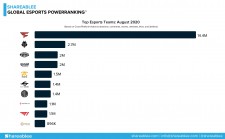 FaZe Clan leads consumer engagement at 14.4M social actions, 38% of all activity; Infamous Gaming is fastest category mover, up 45 spots
NEW YORK, September 9, 2020 (Newswire.com) - ​Today, Shareablee announces the industry-first Global Esports PowerRanking™, an index of the Top Global companies in the fast-growing esports sector based on audience engagement and video impact. The Global Esports PowerRanking™ is the latest in a suite of critical categories analyzed by Shareablee, including U.S. Publishing, U.S. Primetime Television, Sports Media, Influencers, and more.
The Global Esports PowerRanking™ has grown in overall actions across social media by 56% so far in 2020, compared to all of media & entertainment decreasing by 36%. When it comes to video views, The Global Esports PowerRanking™ increased seven times more than media and entertainment in the same period. Particularly with the rise of esports activity throughout COVID-19, this important sector represents many of the most influential and powerful media organizations and the share of consumer attention, time, and overall enthusiasm each company owns when it comes to entertaining, informative, and valuable video experiences.
"The esports industry has reached a tipping point in our community right now, and Shareablee's Global Esports PowerRanking™ was created to add critical measurement to this rapidly expanding space as dollars continue to flow to esports. We have heard loud and clear that both advertisers as well as esports teams, leagues and athletes are demanding one source of truth when it comes to measurement," said Tania Yuki, founder and CEO of Shareablee. "We believe the Global Esports PowerRanking™ is a critical next step in shedding light on what 'winning' means when it comes to the battle for consumer attention and loyalty."
"We've always believed in the power of the FaZe Clan community and the significance of esports in the digital landscape. With Shareablee, we can now more clearly tell our story using data that we and our brand partners can trust," said Jaci Hays, Chief Operating Officer, FaZe Clan. "As we continue to grow our footprint and keep up with advertiser demand in the gaming space and beyond, it's critical that we have a sophisticated and granular understanding of FaZe Clan's performance and fan engagement, which is why we've begun using the Shareablee platform."
For the full listing of the inaugural top 10 companies, click here.
About Shareablee
Shareablee is the leader in audience-based social media measurement for media publishers, agencies and brands that want to understand the impact and effectiveness of their cross-platform social media campaigns. Launched in 2013, Shareablee empowers brands by providing data that can help them define and drive success on social media by arming them with metrics and predictive analytics that inform powerful best practices. Shareablee is the leading authority on audience intelligence, competitive benchmarking and actionable insights, with clients in 15+ countries.
Media Contact: Madison Busick, madison.busick@shareablee.com
Source: Shareablee, Inc.
Share: