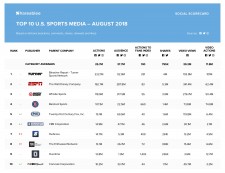 ESPN leads August Video Views with 341 Million
NEW YORK, September 11, 2018 (Newswire.com) - Shareablee Inc., the global leader in audience-based social media measurement, today released their August ranking of the most socially engaged sports media brands across the United States. Sports Media represents a total of 719.2 million actions (post-level reactions, shares, comments, retweets, and likes) across Facebook, Twitter, and Instagram, down 21.6 percent in the August off-season.
The Bleacher Report-Turner Sports Network led the category with 222.1 million total Actions, followed by - ESPN (162.7 million actions), Whistle Sports (118.9 million actions), Barstool Sports (101.1 million actions), and FOX Sports (19.1 million actions).
Other notable findings:
The top four positions did not change from July to August, but FOX Sports and CBS Sports overtook the fifth and sixth positions with 19.1 million and 14.9 million actions, respectively.
Bleacher Report - Turner Sports Network recorded the highest video engagement for August at 101 million.
ESPN had the most video shares with 5.3 million. The Score ranked seventh with 14.7 million actions, followed by The Enthusiast Network with 13.1 million actions at number eight, and ranking ninth is Overtime with 12.8 million actions.
NBC Sports retained the tenth position this month with 10.2 million actions, also showing consistency across the board with steady audience, the actions to fans index, and shares.
About Shareablee Inc.
Launched in 2013, Shareablee Inc. is the leading authority on audience intelligence, competitive benchmarking and actionable insights for social media. The official social media analytics partner of comScore, Shareablee measures a census of global properties and collects brand audience and engagement data across Facebook, Twitter, Instagram, Google+, Tumblr and YouTube.
Source: Shareablee Inc.
Share: